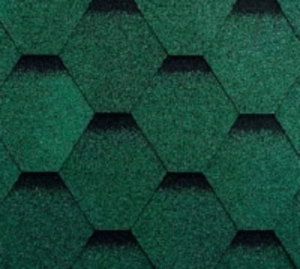 Bitumen Shingles Price 8.50 GBP per 1 m2 excl.  VAT
(one pack contains 3 m2 / GBP 25.50 ).
Natural color of shingles may slightly varry.
• Bitumen Shingles do not require special and expensive accessories.
• Resistant to external factors, they are unaffected by phenomena like rust, normal log cabin movement or high winds.
HEXHAM shingles are created for those, who values stability and aestetics. The exact geometrical shape amplifies the advantages of your roof. The technologically advanced self-adhesive shingle. This roofshingle with its fashionable texture exposures a distinct look that features the unique "honeycomb" design. The broad shadow bands bring a gracious look to any home. The longlasting protection is secured by the utilyzing of a heavyweight fiberglass mat coated with a special bitumen compound. Hexham is specially designed for high wind locations and even enables "vertical" application up to 90°.
1 Base – glass-fiber felt
2 Improved bitumen modified with SBS polymers
3 Basalt sprinkle
4 Adhesive, frost-resistantpolymeric bitumen bulk
5 Easy removable siliconised film