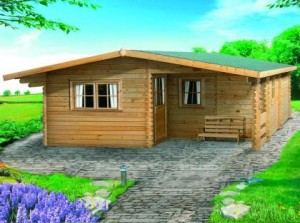 6 x 6 m, 44-50-44 mm Log House WARM
– Price ₤ 8,718.00
DELIVERY INCLUDED !
Double Wall thickness 44-50-44 mm T&G
Dimensions: 6 x 6 m
Basement size: 5,823 x 5,823 m
Height overall: 2,7 m
Four single door (double glazed): 85 x 186 cm
Five single Window (double glazed): 70 x 91 cm
Double window (double glazed): 138 x 91 cm
Roof length: 7 m
Roof area: 47 m2
Livig area 29 m2
Possible furnishing: two Bedrooms, WC/Bath, Kitchen, Hall
• Double grooved interlock;
• Wall boards are flat faced with softly roundeed edges;;
• The corbel of the roof around the whole house;
• Large canopy – 1 m;
• Veranda with canopy 1,9 m;
• Double glazed windows and doors;
• the doors and windows can be supplied either left, or right-hand;
• The cabin includes the floor and double roof construction;
• Windows can be switched for ventilation.
NOTE:
– Log Cabin  installation servise is extra cost;
– Shutters for windows and door are optional extras;
– Bitumen shingles are supplied as optional extras.